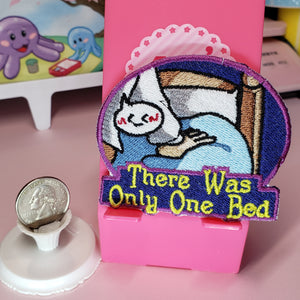 There Was Only One Bed Patch
They've been on a business trip all day and are finally at the hotel. Somehow, the reservation got mixed up. They only have a single bed in the room and the hotel is completely booked!
If you like will they won't theys with a healthy dose of, "We're definitely just friends/co-workers/unlikely acquaintances" and a side of whacky mishaps, you probably like the "There Was Only One Bed" trope.
Available as our classic sew on style. Interested in specific colors? Send us a message and we'd love to make a custom for you.

Each patch is made entirely in house from design to manufacturing. Due to the nature of embroidery there may be slight variations in the stitches, but that means every one of them is unique.
USD Quarter for scale